Welcome to Vertic-Halle
Welcome home!
150 regularly updated routes
Our sport climbing area includes the following set ups:
8 auto-belays
This self-regulating braking system is ideal to safely start climbing and get a feel for the vertical world. The auto-belay area offers a wide selection of routes of all levels, making it possible to climb on your own any time during opening hours.
Beginner area
Two areas in the gym are equipped with fixed top ropes. Climbing on a top rope is the necessary first step to learning how to climb on a rope. We highly recommend you take a class to properly learn the basics. Check our page!
Up to 15 meter-high-walls
Lead climbing
2/3 of the climbing gym is set up for lead climbing, offering routes of all levels (4 to 8) and all angles: slabs, vertical to overhanging walls, and roofs. We recommend taking classes to learn how to lead climb.
Freeform zone
Our two Indian-creek-inspired crack lines will enable you to discover crack climbing or hone in on your crack climbing skills!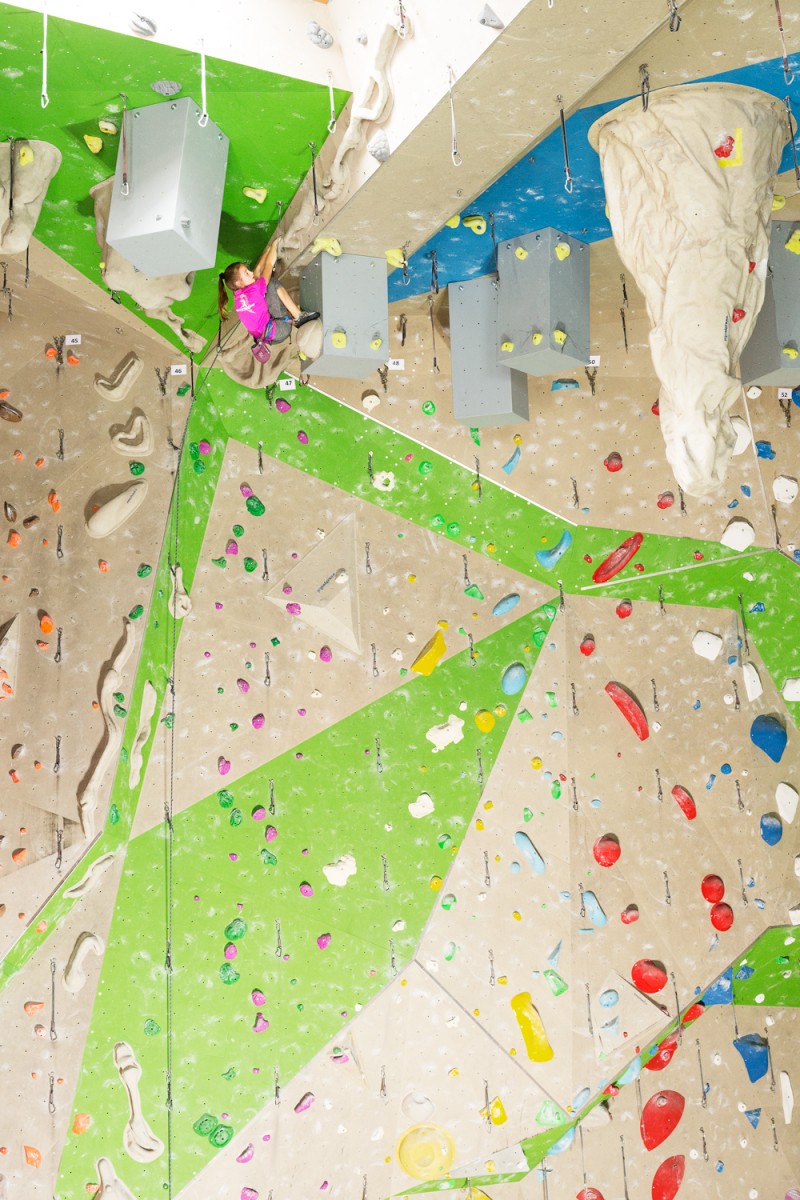 500sqm bouldering
The boulders are 4.5-meter-high. In case of a fall, large mats (40cm) softened the impact upon landing. This is currently the most popular style of climbing as it is accessible to beginners, offers challenges for all levels, and climbers can push their limits with the cheers and motivation from their peers.
Let's have fun!!
Our boulder area includes up to 150 problems of all levels. It is divided in various zones offering a wide range of styles, steepness, and levels – very easy to extremely difficult. We offer new boulder problems on a regular basis so that climbers can find new challenges and keep their stoke and motivation high!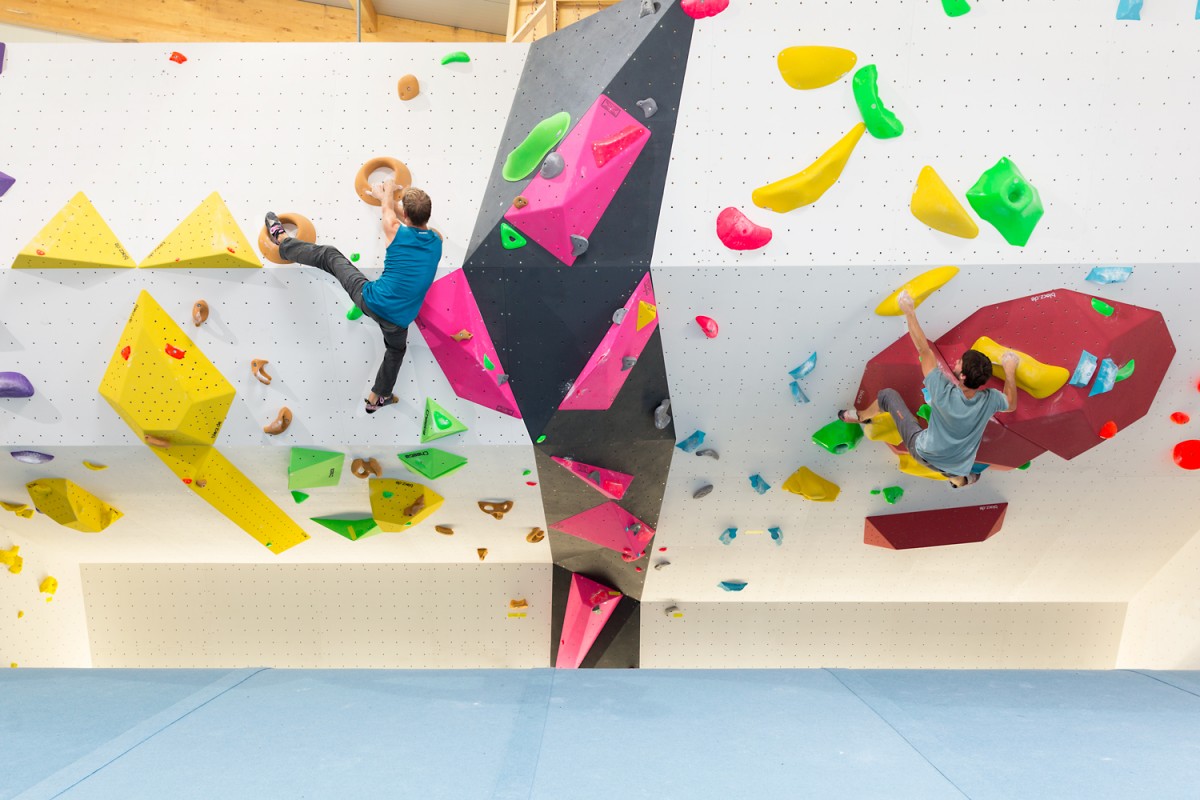 Kids area
Kids love to climb as it is a natural and innate skill. We have created safe areas for kids to climb on. Climbing helps children learn how to properly use their muscles to find balance on a climb, develop coordination skills, learn how to deal with their emotions and in turn, gain self-confidence.
Youngers climbers
The "cave" area is for very young climbers from the age of two. There is another bouldering area for older children right next to the cave. These two areas are linked by a tunnel and provide access to a maze of tunnels that were built behind the main structure.
Children can access these areas under the supervision of an adult.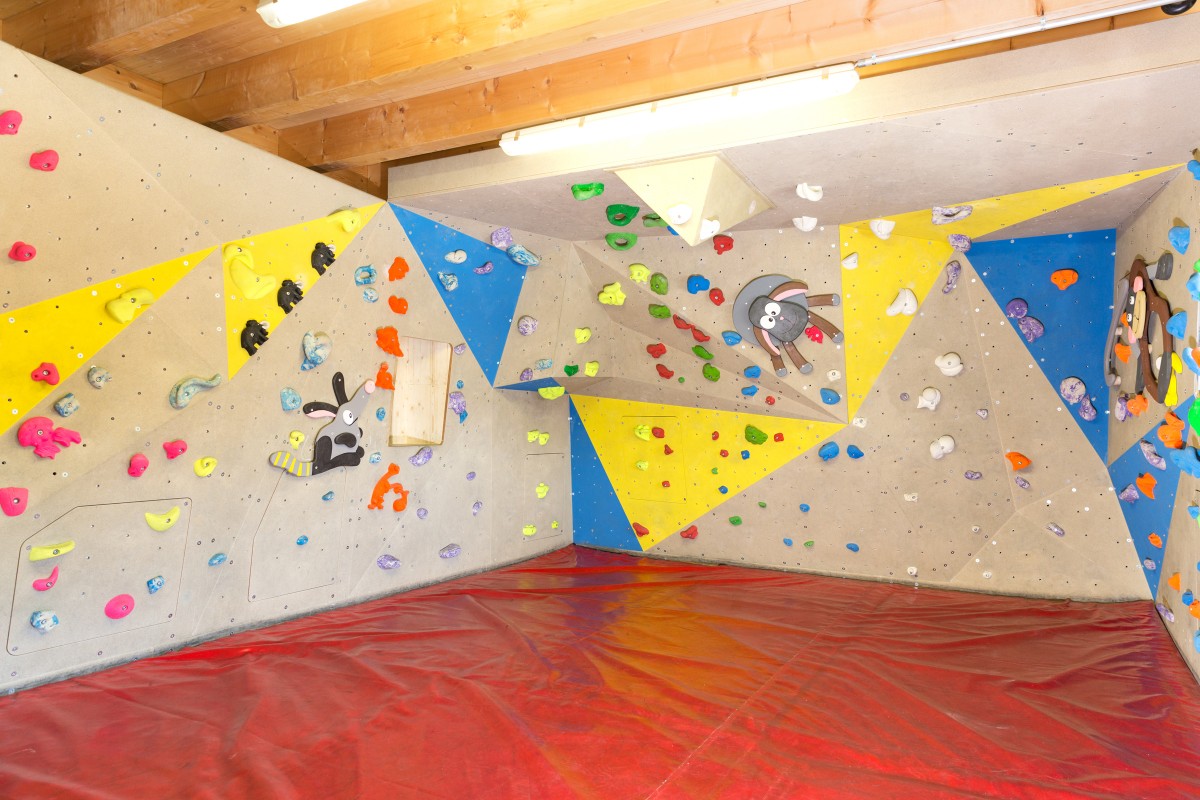 Training gym
Gym training is the stepping stone to gaining the strength and resistance required to achieve your climbing objectives. To this end, we have set up a training area with rings, bars, a Güllich board, various hang boards – including a Moonboard, as well as a stretching corner with mats.
Climbing classes
Climbing safely requires appropriate training. Risk can be reduced to the maximum by knowing how to properly use your gear. You can become a safer climber by learning from a professional what risks are inherent to climbing and what mistakes not to make.
We offer a wide range of high quality classes for all levels taught by qualified instructors. We provide both scheduled and on-demand classes. On-demande classes can be proposed in English, Spanish and German.
Look through our available classes→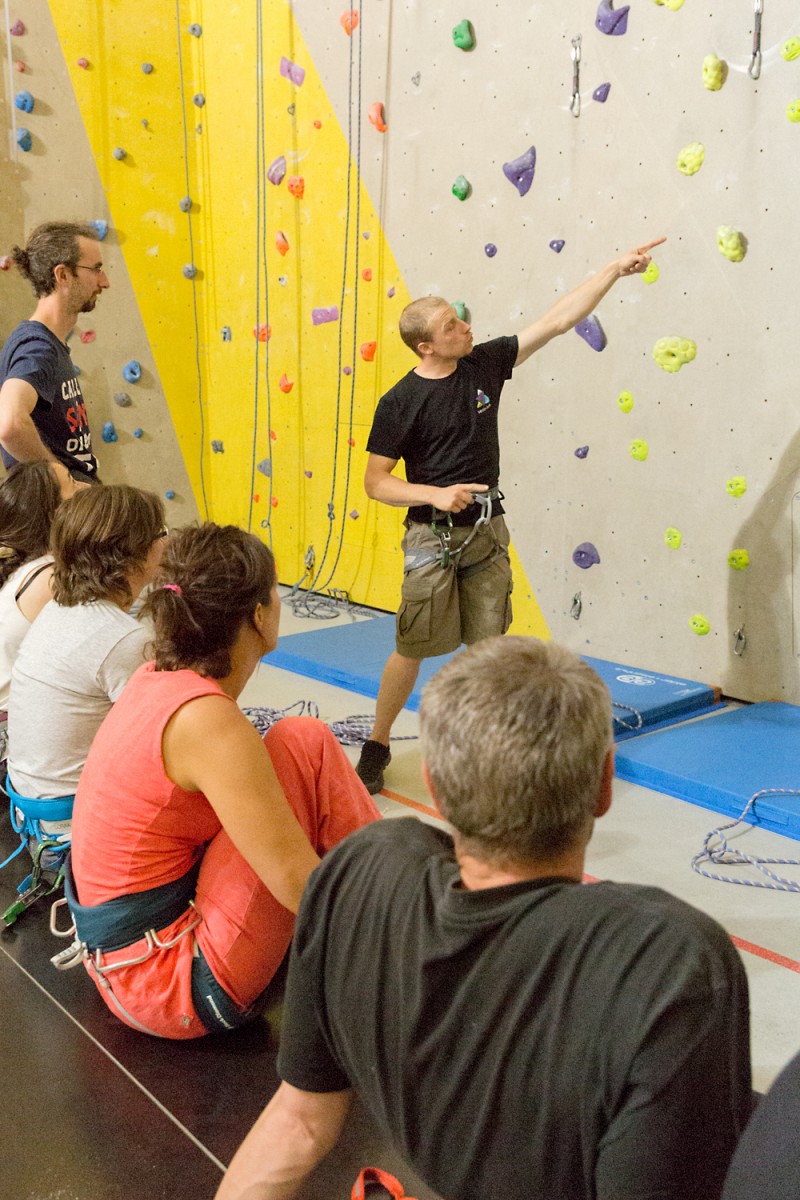 Beyond the climbing gym…
Our coffee shop is the perfect place for a pre- or post-climbing refreshment and snack. We have a nice selection of drinks (with or without alcohol), snacks as well as hot food.
We have a climbing shop in partnership with Look Montagne to cover all your climbing needs. Members get a discount!
Our changing rooms provide individual showers as well as lockers.
Our outdoor space is perfect in the summertime with an inflatable castle, a swing set and an outdoor boulder. You can also enjoy our garden tables and a grill!
Discover the gym in motion